Social Media for Student Recruitment
16 June 2016
Develop your social media strategy for successful student recruitment marketing
Since the development of the world wide web there have been huge changes in how social media is consumed and produced. This phenomenon is dominated by an ever-increasing and evolving social media landscape that is used by millions every day.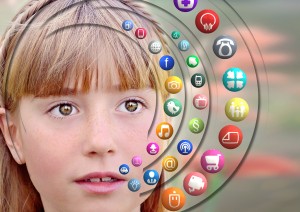 As social media channels constantly evolve, along with the increase in the sheer number of messages and amount of online content, it is increasingly challenging to be engaged, engaging and effective.
Staying on top of this ever-changing social media landscape is both the responsibility and challenge of all marketing, communications and admissions staff in further and higher education. If understood and implemented correctly, your social media strategy can be the most visual, cost-effective and immediate means of marketing your college / institution.
By attending Discovering Future's latest conference you will hear how your peers exploit various social media channels to support their student recruitment. Their experience and case studies will give you the opportunity to:
review your own engagement with the digital landscape
discover how to stand out in an 'always-on' social media world
develop networking strategies to engage with your potential students
discover how to use social networks to improve your SEO and online reputation
implement social media techniques cost effectively and measure ROI.
You will be inspired by the speakers and leave with a renewed vigour and action plan for how you can use social media effectively in your marketing and recruitment strategy.
The day
'Social Media for Student Recruitment' is a day for those engaged with the challenges of attracting students to their institution, college or school.
It's probably not an understatement to assume that the mainstay of a successful student recruitment campaign is effective brand communications that reach your various and varied potential student audiences via their ever-growing communication of choice: social media.
This conference has been specially designed to explore how students, both young and mature, are using social media channels to communicate with each other and what opportunities their behaviour gives marketing and digital staff to engage with them.
It's a day devoted to learning about how an effective social media strategy can support your student recruitment aims by providing:
time to reflect on what your social media should be, and possibly what it shouldn't be

an opportunity to hear about new trends and how these can be incorporated into your marketing and recruitment strategy

advice on how to manage your social media channels and what makes for compelling content

information regarding how potential students, both at home and overseas, wish to engage with you, and

how activity on social media is the new way of interacting with your potential customers and a way of boosting your digital credentials.
Social Media for Student Recruitment
Agenda - 16 June 2016
 9.00

 Registration / refreshments

 10.00
 Welcome
Robert Hawker
Discovering Futures
 10.05
 Keynote speaker
Jim Tudor
Founder
The Future Index

  Getting social: 10 trends from the digital landscape

 11.20 
 Break and networking
 11.40
 
Andrea Grassby


Marketing Director
ON CAMPUS

  Demystifying the strategic plan

 12.15
 
Mark Higginson
Co-founder


Out to Sea (digital agency)

  How many, how often and how much: what isn't being discussed about the efficacy of social media.

 1.00
 Lunch and networking opportunity
 1.45
 Special interest sessions 1 (30 mins)
 • 1
 
Barney Brown
Head of Digital Communications
University of Cambridge

  Tips and tricks for using social media on a budget or with a small team

 • 2
 
Alicia Liu
Director
Singing Grass Communications
  Social media in China - WeChat, talking the talk with China's new digital natives

 2.20
 Special interest sessions 2 (30 mins)
 • 1
 
Kenon Man
International Digital Communications Officer
Swansea University

  Social media campaigns in Nigeria

 • 2
 

Alistair Beech
Senior Digital Communications Officer 
University of Central Lancashire

  5 ways to use social media to boost student recruitment

 • 3
 
Alex Bexavanis
Client Director
Webcredible

  You got people to click on your campaign, what next?

 2.55
 Break and networking opportunity
 3.15
 Special interest sessions 3 (30 mins)
 • 1
 
Georgia Burke
Social Media Manager
JWT

  Social and digital trends of the 'Millenials'

 • 2
 
Dave Musson
Senior Online Communications Officer (Social Media) 
University of Warwick

  Using Instagram to build community and help with recruitment

 3.50
 Special interest sessions 4 (30 mins)
 • 1
 

Nikki Rae
Managing Director
Future Insight Analytics

  Demystifying Google Analytics

 • 2
 

Louise Facey
Social and Digital Communications Officer
Blackpool and The Fylde College

 

Using social media in FE student recruitment marketing

 • 3
 
Jack Wallington
Community Director
The Student Room
  Relationship Revolution! - the competition won't see you coming: new research into GCSE student uni research habits

 4.25

  Panel Discussion

 4.45
 Depart
© Discovering Futures 2016
Please note, under exceptional circumstances the agenda may be subject to change.

The Conference Venue:

Level 32
40 Bank Street
London E14 5NR
We're almost on top of the world with the choice of our conference venue in one of the many high-rise buildings in London's Docklands at 40 Bank Street E14.
The venue is part of professional event spaces CCT Venues, and is of the highest standard and includes all the necessary facilities to make your day at the conference both comfortable and productive.
The venue is fully air-conditioned with quiet spaces and an on-site restaurant that serves freshly prepared lunch. Tea, coffee and water are also available throughout the day.
You can see the location of 40 Bank Street E14 in the Google map below.
Getting there
The nearest tube station (Jubilee line) and DLR station is Canary Wharf - both stations are near to each other and are about two minutes walk to the venue. From central London the fastest route to Canary Wharf is via the Jubilee line, and as a guideline, you should allow about 20 minutes for your journey on the Jubilee line from either Westminster or Waterloo.
You can plan your journey using Transport for London's TfL website.
Cars
There are four underground public car parks in and around the conference venue area but parking charges are high and you should allow for morning rush hour congestion.
Buses
Bus services to Docklands are extensive and you can check route(s) on the TfL website.
Boats
You could arrive in style via the Thames Clipper boat service.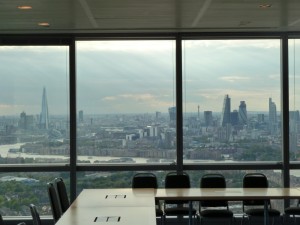 Journey times take about one hour from Waterloo and the walking time from Canary Wharf pier is about 10-15 minutes.
Planes
London City Airport is about 30 minutes taxi ride away and flights arrive from all major cities in Europe and the UK.
Staying overnight
Overnight accommodation is not included in the conference fee. There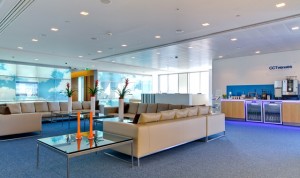 is a wide choice of accommodation available in central and east London, ranging from the cheap-and-cheerful to luxury five star! You can Google with your specific requirements but don't forget that hotels closest to the conference venue will be in the E14 postcode area.
Canary Wharf has a number of hotels including Britannia International Hotel, Four Seasons Hotel, Hilton Canary Wharf and Travel Lodge Docklands.
Wifi
Although we hope you won't be distracted by the demands of the office, wifi is available throughout the conference venue - so you'll be able to keep track of your emails!
Breathtaking views
There will be breathtaking views of London from our conference event space high from the top floor of 40 Bank Street.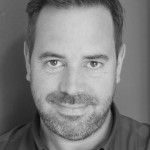 Jim Tudor (Keynote Speaker)
Founder
Future Index
Jim created the Future Index© trends consultancy in 2013 to absorb and share the very best global marketing trends, helping clients to develop and shape their own successful strategies.
Specialising in working with universities and business schools, Jim has taken the Future Index© to over 25 European institutions through presentations and workshops, as well as via strategic and creative consultancy. A hands-on practitioner with over 20 years experience, Jim has helped develop everything from university visions and plans through to student-led communications platforms; from award winning social media campaigns to alumni engagement initiatives.
He has delivered keynote presentations at CASE, CIM HE, UCAS and numerous other conferences in Europe and is passionate about the future of higher education and looking forward to the challenges and opportunities we're facing.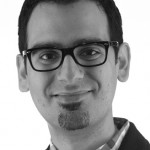 Alexander Baxevanis
Client Director
Webcredible
Alex leads teams of UX consultants and designers in delivering large-scale projects across a portfolio of clients. He gets very involved in defining product strategies and pushing for innovation in client's products.
In his most recent projects, he's helped well known brands such as Dulux, Citibank and the Museum of London shape and launch successful digital propositions through keeping their customers at the heart of their thinking.
Alex is passionate around communicating user experience and can often be found running training sessions or speaking at conferences.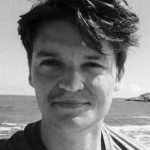 Alistair Beech
Senior Digital Communications Officer
University of Central Lancashire
Alistair is a creative specialist in higher education digital marketing with experience at corporate level in both the public and private sector. A regular conference speaker and guest lecturer in digital communications, he has worked in digital PR for 10 years, recently joining the University of Central Lancashire after leading digital and social media activity at Keele University. He manages UCLan's corporate social media and digital advertising channels across desktop, mobile and tablet platforms.
Follow @alistairbeech on Twitter.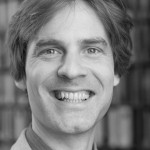 Barney Brown
Head of Digital Communications
University of Cambridge
Barney Brown's career in digital communications has been split between web development and communications teams spanning the education sector, the Forestry Commission and the music industry.
As head of digital communications at the University of Cambridge, Barney works in a team of three focussing on the production of guidelines and assets to aid in the management of thousands of websites and social media profiles.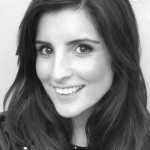 Georgia Burke
Social Media Manager
JWT
Georgia is a social media manager at J. Walter Thompson, an advertising agency based in London.
Previous roles at Ogilvy Healthcare and Possible have allowed Georgia to run social campaigns across a variety of clients and sectors, experiencing first-hand the change in digital trends for brands over the past few years.
She works with many diverse global and UK brands including Bayer, Nestle, HIT Entertainment, Nokia, IHG and Kimberley-Clark offering her expertise to clients.
Her specialities include planning strategy, creating and executing content across different social platforms, research and analytics, blogger outreach, carrying out community management and developing processes to deal with crises.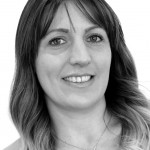 Louise Facey
Social and Digital Communications Officer
Blackpool and The Fylde College
Louise has been working in public relations for over ten years, latterly within FE. While at Blackpool and The Fylde College, she successfully set up and runs the college Facebook page and Twitter account and has gained buy-in from senior management as to the benefits of social media.
More recently, Louise has made the full-time switch to social and digital communications, using her PR background to ensure messages are on brand. In addition to maintaining the college's social media presence, Louise has set up a team of staff ambassadors to manage satellite pages and delivers regular staff development sessions to empower other people within the business to effectively use social media for student recruitment.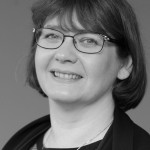 Andrea Grassby
Marketing Director
ONCAMPUS
Andrea is currently the marketing director for ONCAMPUS, Cambridge Education Group's international pathway brand.
Previously she was education marketing strategist at SMRS, an advertising agency specialising in student recruitment, and has previously held marketing and strategy roles in UK universities.
Her key interests are in understanding student motivations and behaviours and using this insight to produce targeted strategies for activity across the spectrum of the student journey.
Andrea has an MBA and is a chartered member of the Chartered Institute of Marketing (CIM).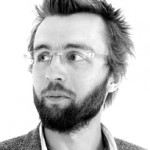 Mark Higginson
Founder
Out To Sea
Mark Higginson was the social media manager at the University of Brighton and is particularly interested in how attention works on the web and how this is applied to marketing, presenting an alternative evidence-based viewpoint that runs counter to much of the prevailing industry thinking.
He spent eight years working agency-side; six of those in one of the first specialist social media teams in the country and as the leader of that team for three years.
He blogs at markhigginson.co.uk and has been quoted in or written for The Guardian, The Metro, New Media Age, Marketing magazine and Sparksheet, among others, in reference to his work and has spoken at events including Social Media Week and the Online Information Show.
He recently founded digital agency Out to Sea and works for a number of education clients.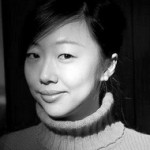 Alicia Liu
Director
Singing Grass Communications
Alicia is the founder and managing director of Singing Grass, a strategic communications consultancy based in London that connects the world with China through arts, lifestyle and culture.
Leveraging her network in the media and arts spheres in both China and Europe, she has been instrumental in creating strategic communications and business development programmes for international clients ranging from Gieves & Hawkes, the London Book Fair, Shanghai International Children's Book Fair to the phenomenon Chinese pianist Yundi Li.
Alicia is involved in the King's College London mentorship programme and has been invited to give guest lectures on China and arts marketing at Royal Holloway University of London and INSEEC Business School. She is an advisory panel member for Southampton Solent University research and innovation hub.
Singing Grass Communications has a team of PR and digital marketing specialists based in Europe and in China who collectively have two decades of experience in the arts, education and luxury retail sectors.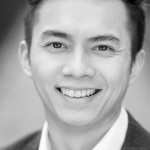 Kenon Man
International Digital Communications Officer
Swansea University
Kenon Man started his career in the arts. He has worked on-stage and off-stage before joining marketing teams at Wales Millennium Centre, National Youth Arts Wales and Sherman Theatre.
Kenon joined Swansea University in 2012 and has led on a number of international campaigns, during his time he has established a digital forum and open digital 'surgeries' to promote a positive digital culture at the University and to share best practice. He is responsible for creating and implementing an international digital strategy as part of the international recruitment strategy for Swansea University.
In 2014, Kenon received a Gold CASE Circle of Excellence award for his international recruitment short video. He continues to look for innovative ways for the University to engage with students; in 2015 he managed a live-stream of the open day to prospective international students and he is currently looking to introduce VR videos into his marketing toolkit.
He has a keen interest in how digital technology is disrupting organisations and how it affects the higher education supply chain. Away from the computer screens and gadgetry, Kenon continues to be an active member of the arts scene in Wales, performing in various orchestras and ensembles and he is currently preparing for his FRSM Performance diploma.
Twitter: @kennyman82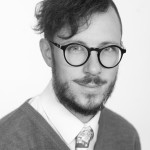 Dave Musson
Senior Online Communications Officer (Social Media)
University of Warwick
Dave is the lead officer for social media with the University of Warwick's central marketing team.
Since joining the University in 2014, Dave has created and implemented a social media framework, as well as establishing a network of digital champions from across Warwick's campus and devising an induction-themed social media campaign that was nominated for a national award. He also delivers social media training and leads on social media strategy, monitoring and evaluation.
Prior to joining Warwick, Dave spent four years in the communications office of a local council where, amongst other things, he led on social media.
Outside of work, Dave is a keen photographer, guitarist in a rock band, occasional blogger and regularly disappointed football fan. He is @davemusson on both Twitter and Instagram.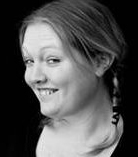 Nikki Rae
Managing Director
Future Insight Analytics
Nikki Rae is the CEO of Future Insight Analytics - a customer experience agency with a solid grounding in measurement and analytics. Nikki is a renowned international speaker on analytics and customer experience and is a huge proponent for data-driven marketing and decision-making.

Nikki has an academic career with a BSc in computer science (BSc) and MSc in technology and innovation management, and is a guest lecture at Brighton University.

Nikki is also friendly, approachable and talks 'tech' in plain and simple language for everyone to understand.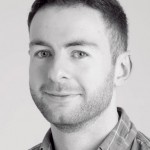 Jack Wallington
Director of Community
The Student Room
The Drum has named Jack as one of the Top 50 most influential people in social media for the last two years running.
Jack leads the content and social teams at The Student Room, the UK's largest and fastest growing education community. Seventy-five per cent of UK students aged 14-24 visit The Student Room's websites with over eight million visitors every month.
Jack and his team work closely to provide tips, advice and direction across a number of student support campaigns covering a range of issues affecting students, including university applications and clearing.
Prior to working at The Student Room Group, Jack worked for the IAB, Cancer Research UK, Sony and Warner.
Date: 16 June 2016   

Why attend
You will hear from our expert speakers about how they use social media to reach their audiences and how they are connecting with them.
There will be case studies and knowledge-sharing about social media channels, the behaviour of 'Millenials' and how the 'always on' culture has changed the way information is consumed and digested.
Speakers will reveal how social media is consumed at home and abroad
Discover new ways to assess rate of investment and interrogate Google Analytics
Meet new people, share challenges and solutions and leave with a reinvigorated approach to your own recruitment and social media strategy.
Addressing your professional needs
Whatever your role or position in your institution, college or school, this unique event will provide a stimulating and engaging day's discussion on how your recruitment strategy might adapt in an ever-evolving and expanding digital landscape.
You will discover how the latest thinking and future trends are shaping the future of social media and technology, and how this is radically reshaping the business of student recruitment marketing.
It will also help to improve your digital literacy and enhance your knowledge of the opportunities offered by social media.
By providing the opportunity to reflect on how the world of social media is changing and the marketing potential this provides, you will also have the time to reflect on, and address, your own professional and digital credentials. 
By attending you will:

appreciate when and how to use different social media channels
develop insights into how to create compelling social media content
understand the processes and etiquette of growing followers
hear about successful social media content strategies that will inspire you to generate an online 'buzz'
analyse and assess your online audiences and those of your competitors
learn new tips and skills for managing social media on a budget
understand the trends and behaviour of tomorrow's students: the 'Millenials', and
help you to became a digital champion and provide the spark to attract 'Millenials' and screenagers.
Fees are not available for archived conferences